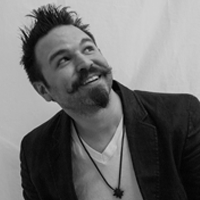 JOY COMPLEX  was founded by Jeremy Burnich, a quirky guy with a passion for art and technology (among other things).
The CONCEPT

Bringing clever ideas to life.

JOY COMPLEX designs things that bring a smile to your face. 

We embrace the word "neat!"

It's a factory that churns out good feeling, support, and positivity. 
JOY COMPLEX has offices in the City of Bridges, the moon, and in everyone's imagination.
PUBLICATIONS
3 Questions | Forty-Six Interviews with Creators from Around the World
What would happen if you asked a complete stranger three questions?
Over the course of a year that's exactly what I did. I asked photographers, painters, graphic designers, gun owners, animators, pizza enthusiasts, beggars, poets and more three questions. This book is the result. The interviews collected in this book first appeared on Ello, a community of creators, thinkers, and dreamers.
Published DECEMBER 10, 2015
PRESS
JOY COMPLEX has been featured several times by 3D printing industry publications:
Ctrl-Alt-Del-Schlagring für richtig mies gelaunte Nerd-Poser | SEPTEMBER 16, 2016
Control-alt-delete brass knuckles reboot your fashion sense | SEPTEMBER 14, 2016
Remember Ello? You Abandoned It, But Artists Didn't | MAY 17, 2016
'People want to hit him': Donald Trump piñatas lead Etsy's popular election items | APRIL 19, 2016
The 5 Coolest 3D Engagement Rings By Stilnest | FEBRUARY 29, 2016
LIGO Discovers Gravitational Waves; Joy Complex 3D Prints Them | FEBRUARY 19, 2016 
Walk with Kubra Khademi! Joy Complex's 3D Printed Armor Pendant Supports Afghan Women's Rights | DECEMBER 01, 2015
Joy Complex's 3D Printed Modūlus Ring Collection Offers Constant Variation | DECEMBER 21, 2014
Jeremy Burnich 3D Prints "The Green Hell": 3D Racetracks models famous tracks | DECEMBER 19, 2014
Joy Complex 3D Prints Conductors' Batons From Beethoven's Notes | OCTOBER 24, 2014
AWARDS
Third Place | i.materialise and Rhino Apple Accessories Challenge
Second Place | WALLA + Pinshape Music Merchandise Contest
Second Place | Pinshape Wall Art Contest
MEDIA
Founder Jeremy Burnich  has appeared on two episodes of the Printing Everyday Podcast hosted by Jessica Hedstrom
Episode 10 –   talking about his background in law, what inspired his sound wave jewelry. line
Episode 11 – talking about teaching and current events in 3D printing.
He was a featured presenter at the Shapeways Small Business Symposium. He discussed marketing and branding for 3D printing powered small businesses.
JOY COMPLEX designs are available in several retail outlets in the United States and Europe.
If you are interested in offering JOY COMPLEX products for sale in your store, please contact me at shop@joycomplex.com. Send your order and I will reply with estimated shipment costs, production time, and a final quote. Questions or a simple hello are welcome too!
JOY COMPLEX has some basic terms:
Wholesale prices and line sheets are provided upon inquiry. Please email me at shop@joycomplex.com
I am able to provide any type of finish to items across most of my product lines.
Fulfillment time is 2-8 weeks, as all my designs are made to order.
I prefer to ship via USPS, with shipping costs varying by the quantity ordered and destination.