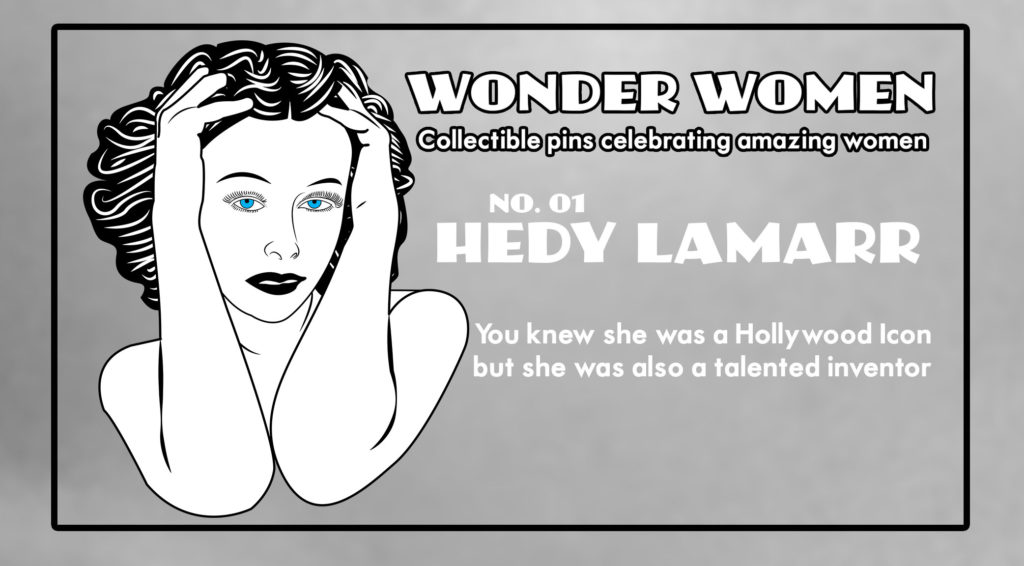 I've created a new Kickstarter to launch a series of Wonder Women collectible enamel pins. Each pin in the series will be inspired by and celebrate an amazing woman and her accomplishments.
These women are role models for people of any gender and they should be recognized for their contributions to the world – especially women who managed to get their ideas and talents across in a male-dominated society.
Why start with Hedy Lamar?
While you may know her as a star of the silver screen during Hollywood's "Golden Age," she was also a talented and (until recently) unsung inventor. If you're reading this on a phone one of the people you can thank is Hedy Lamarr! She co-invented "spread spectrum" technology which is part of the backbone of digital communications.
It's about time she was recognized for all of her talents.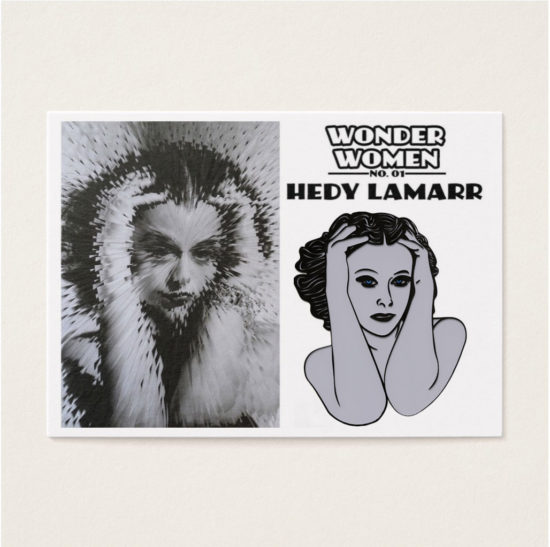 Each pin will come attached to a backing card. On the front, the pin will be displayed along side a reproduction of an original work by collage artist Lola Dupré. (I personally own this piece and look at it every day.)
The reverse of the card will contain information about Hedy Lamarr and her scientific and artistic contributions to the world.
The Hedy Lamarr pin is the first of (I hope) many more Wonder Women pins.
Are you aware of someone who you think deserves to be recognized? LET ME KNOW! I'd love to learn about the women who inspire you.
Please share this campaign too! The more people who are aware of it the more likely that it will be successful and lead to more pins in this series. 

About the Pins:
2 inches at the tallest point. Black dyed metal plating with a butterfly clasp on back. White enamel fill with blue fill for eyes. They are designed and made in the US.
About Artist Lola Dupré: 
Lola is a collage artist and illustrator with clients including Penguin Books, TIME Magazine, Nike Basketball, MAXIM Magazine, Die Welt, New Statesman, WIRED and BURTON.
She makes some of the most amazing art you will see today.
Check out her website: http://www.loladupre.com/