Description
This pin is based on the symbol for electrical resistance. Subtly show your resistance to the "current" US President.
These pins were created via Kickstarter! A campaign to create these pins ran from January 23rd to February 22nd.  It raised enough to go 343% over the initial funding goal.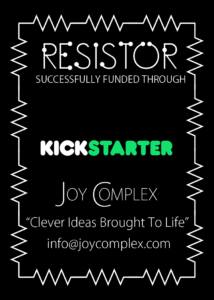 We have gone forward in so many ways: equality for women, Civil Rights, and LGBT rights.  We cannot allow that progress to be halted and must fight to retain those gains while we continue the struggle.
They must respect our existence or expect resistance.
The call to resist this administration has been heard by millions.  I think it's important to have a symbol for that resistance.
In electronic circuits, resistors are used to reduce current flow, adjust signal levels, to divide voltages, bias active elements, and terminate transmission lines, among other uses. [source]
Resistors against the new administration can serve the same purpose.
This pin is a visible statement you can wear to show where you stand vis-à-vis the current president of The United States.
AGAIN, They must respect our existence or expect resistance.
Wearing your pin is a reminder of who we are and that we intend to move forward.
Matching shirts available on THREADLESS.